6 Benefits of Preserved Roses
Roses are one of the world's most beautiful flowers. They are the most highly gifted flowers on Valentine's Day. They are the number one flower used in wedding bouquets. They are a symbol of love and a symbol of sympathy. They are a versatile flower that is perfect for many occasions.
Preserved roses are real roses.
But this is not to say that roses don't have their downfalls – because they do – especially if you're giving freshly cut roses. Fortunately, there is a fantastic alternative to freshly cut roses – preserved roses. And they have some benefits that you may not know about.
1. Preserved Roses Are Not Artificial
When people hear "preserved roses," they often think "artificial." But nothing could be further from the truth. Preserved roses are real roses. The roses are cut at their peak and preserved using 100% natural plant-based preservation liquid. This preservation process allows the roses to maintain their beauty. And, they even retain the feel of fresh-cut roses. The petals are soft and supple.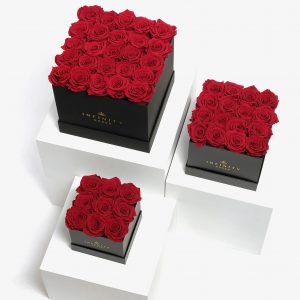 2. Preserved Roses Are Low Maintenance
Fresh-cut roses require you to fill the vase with water on a regular basis in an attempt to keep the roses looking fresh and healthy. And still, after several days, the bud is going to wilt, and the petals are going to fall off. With preserved roses, there is no need to place your flowers in a vase. There is no need to change the water. There is no need to pick up dropped petals. All you need to do is keep your preserved roses in the gorgeous box they arrive in and away from direct sunlight – which can cause the color to fade. Then sit back and enjoy!
With preserved roses, there is no need to place your flowers in a vase. There is no need to change the water.
3. Preserved Roses Last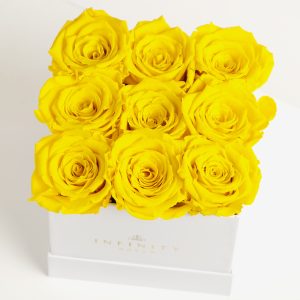 If you're lucky, fresh-cut roses last 7-10 days. That's not a long time. Preserved roses last up to a year or even longer – meaning you can enjoy them for an extended period of time. This makes them an ideal gift as they will be a continuous reminder of your thoughtfulness.
4. Preserved Roses Are Environmentally Friendly
In this age, with more and more people trying to do better for the environment, preserved roses are definitely a good choice. Because you are not continually replacing preserved roses, you will create less waste and reduce your carbon footprint.
5. Preserved Roses Come in a Wide Variety of Colors
You may think that the colors available for preserved roses are limited to just a few like red, pink, and white, but preserved roses come in an unbelievable color palette. You can choose from your traditional colors or some unique colors like gold, Tiffany Blue, or black. And the hues are just stunning!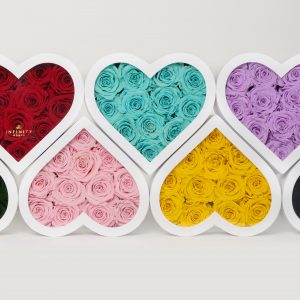 6. Preserved Roses Can Save You Money
If you know someone who loves roses and always wishes to be surrounded by their elegance, then preserved roses can make this happen without costing a fortune. Because they can last a year or more, preserved roses will not have you constantly digging into your wallet to spend additional money like you would have to with fresh-cut roses.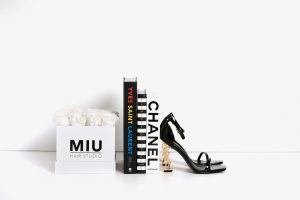 The next time you have to send flowers, don't choose fresh-cut roses, choose preserved roses. Long-lasting with gorgeous colors and easy maintenance, they're the smart choice. Infinity Roses has an incredible selection and will ensure that you are sending the very best roses – beautiful preserved roses.